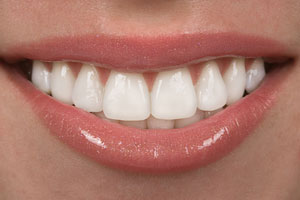 Are you disappointed with your smile when you look in the mirror? Do you find yourself wishing your teeth were whiter, straighter, or just more perfect? Luckily, your dentist has a solution for you. Porcelain veneers are a great cosmetic dentistry procedure than can have a positive impact on your smile.
Your smile may currently be chipped, stained, crooked, have gaps, cracks or other flaws. Porcelain veneers are a great way to correct and hide imperfections in your smile. Since they're thin pieces of high quality porcelain that are attached to the front of your teeth, they can change the way your smile appears to the world. Anything you don't like about the appearance of your smile can be hidden away, transforming your smile immediately without the need for extensive dental work. Porcelain is an ideal material because it reflects light similarly to tooth enamel, giving you a smile that is natural in appearance.
If your dentist decides that porcelain veneers are the right choice for your smile, they'll have your veneers custom made in a dental lab to enhance your smile. They'll remove a small amount of your natural tooth structure and affix the porcelain veneers to the front of your teeth. Instantly, your smile will be revitalized. The entire process usually takes two dental appointments.
If you're not satisfied with the appearance of your smile, you don't have to live with it. Porcelain veneers allow your dentist to reshape the appearance of your smile, hiding any imperfections or flaws. Call your dentist today to learn more or see if this option is right for you.