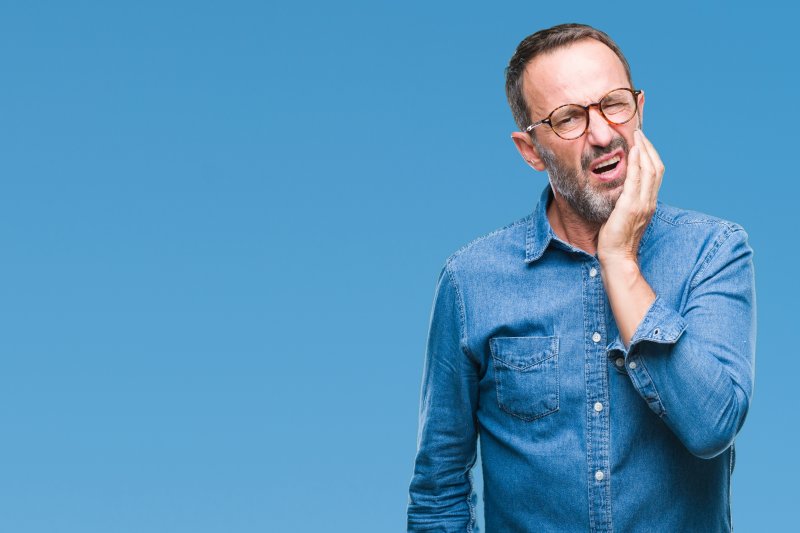 It's important to recognize that once a dental implant has been placed, it can no longer feel sensitivity or any sensations at all for that matter because of the nature of the integration. Dental implants are a combination of a crown, abutment, and metal post that has fused with bone. None of these components contain nerves, which means the sensitivity you're experiencing is definitely coming from somewhere else. To learn where this sensitivity in your dental implant could be coming from, keep reading!
A Nearby Tooth is Damaged
While you may be concerned about your dental implant being sensitive, it's far more likely that a nearby tooth or section of gum tissue is experiencing problems. Since the brain is not capable of confirming the exact location of specific areas of sensitivity, it's very important that you visit a dentist so they can confirm the direct cause of your symptoms.
Impaction of Food or Other Particles
While it might seem too simple, often times patients experience sensitivity because of food particles getting trapped in between their dental implant and their natural teeth. For example, popcorn kernels can get caught, leading to irritation of the gums and crowding of the tiny gaps between your teeth.
A Gum Infection is Present
Gum infections are a major concern when it comes to dental implants because it can lead to it eventually failing and requiring extraction. As gum disease progresses and gets worse over time, it can break down the foundation necessary to keep the implant in place. This is due to the bone density inside the tooth deteriorating. After enough time, the implant can even start to feel loose.
Allergic Reaction
It's not a very common occurrence, but there are cases where patients have been allergic to the titanium alloy used to create the dental implant. On top of sensitivity, those who are allergic to titanium may also experience a loss of taste, swelling in the gums, and a tingling sensation.
What You Should Do When Sensitivity Appears
Keep in mind that these are only a few of the potential causes that can stem from sensitivity around a dental implant. The only way to know for sure what is going on is to schedule an appointment with a dentist as soon as possible. This becomes especially important if you had the dental implant placed recently.
Don't assume that dental sensitivity, whether it's from a dental implant or a natural tooth, will go away on its own. Call a dentist as soon as you notice something doesn't feel quite right and get the professional attention you need!
About Long Family Dental
The dentists at Long Family Dental hold the expertise necessary to not only restore dental implants with natural-looking restorations, but place them in-house! Dr. Bob and Dr. Long are Fellows of the International Congress of Oral Implantologists, while Dr. Fichera holds advanced training in implantology, esthetic dentistry, and complex restorative dentistry. If you're experiencing sensitivity with your dental implant, don't hesitate to contact them through their website.