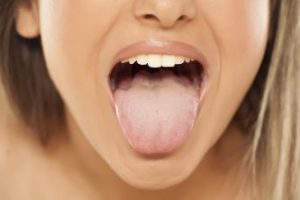 Did you know that the surface of your tongue is just as unique as your fingerprints? Your tongue also has between 3,000 and 10,000 taste buds and heals more quickly than any other body part. It also affects your oral health in surprising ways and can be the difference between fresh and not-so-fresh breath! But while most people understand why checkups with a dentist and good oral hygiene habits are necessary to keep their teeth clean, many forget about their tongue altogether. Keep reading to find out how a clean, healthy tongue benefits you and how to keep it that way!
What Are the Benefits of a Clean Tongue?
The surface of your tongue is covered in tiny finger-like projections called papillae that easily collect bacteria and food particles. While clean teeth and gums are the foundation of good oral hygiene, your tongue actually harbors an estimated 50% of the bacteria in your mouth.
This contributes to bad breath, cavities, and gum disease, all of which can be prevented by cleaning your tongue each day. Particularly since bacteria can move from your tongue to your teeth and gums, potentially "undoing" some of the benefits of brushing and flossing.
The Best Way To Clean Your Tongue
Fortunately, keeping your tongue clean is easy to do and requires less than a minute of extra work each time you brush and floss. Here are the best ways to keep it clean (choose whichever one you prefer):
Brush – Simply brush your tongue at least once each day. After brushing your teeth, but before rinsing the toothpaste out of your mouth, gently but thoroughly go over the entire surface of your tongue with your toothbrush. Some people find this easier at night when the gag reflex isn't as strong. It's also helpful to lightly brush the roof of your mouth and gums.
Use a tongue scraper – Some people prefer using a tongue scraper, which is an inexpensive tool that you can find in most drugstores. Just glide it over your tongue with light, even pressure 2-3 times to remove bacteria and food particles.
And, as always, don't forget about regular checkups with a dentist. Even when your oral hygiene habits are excellent, these visits are a chance for a professional to remove the deposits that you can't remove at home and make sure your tongue (and all the other structures in your mouth) are healthy
Follow these simple guidelines and look forward to fresher breath, fewer cavities, and healthier gums!
About the Author
Dr. Chris Long is a second-generation dentist with over 15 years of experience. He and his staff always provide their patients with oral hygiene tips because they know how helpful it is for maintaining great oral health and preventing problems over the long-term. If you have any questions about cleaning your tongue, you can reach Dr. Long via his website.