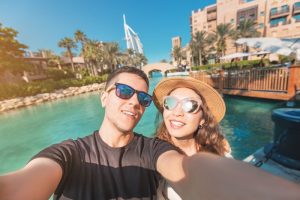 Getting ready for that big vacation you've been anticipating for months? If you're like most people, your preparations may include making a list of all the places to see and exciting things to do. While vacation is certainly a good time to decompress and put your responsibilities on hold, there's one thing you should never take a break from – dental care. So, whether you're going on a cross-country road trip or an international excursion, here are a few summer oral health tips in Cleburne from your dentist to protect your smile this season.
Eat Healthy Snacks
Tooth decay can be a real risk after a summer of eating too many sugary, acidic, and processed foods. Keep your mouth safe by munching on healthy snacks instead. Carrots, celery, apples, pears, and nuts are just a few foods that can actually benefit your oral health. Pack some in your travel bag so you can enjoy them while on the go!
Avoid Eating Ice
For some people, there's nothing better than chewing on leftover ice after a cool drink. Some do it because it's satisfying, while others may do so merely out of habit. Whatever the case, it can wreak havoc on your teeth, enamel, and gums. If you can't kick the habit, try eating finely shaven ice instead! It is much gentler on your teeth but can still satisfy the craving.
Protect Your Lips
Do you lather up with sunscreen before spending your entire day under the sun? Most people do. But unfortunately, lips are often overlooked during this process even though they are just as vulnerable to sunburn as other parts of the body. Protect your mouth by wearing a lip sunscreen with an SPF rating of 30-plus and reapplying frequently.
Maintain a Good Oral Hygiene Routine
It's easy for your routine to falter a bit while on vacation. However, making time in your schedule to care for your mouth is crucial to preventing oral health problems such as tooth decay, cavities, and even gum disease. Make sure you continue to brush your teeth twice a day and floss daily – your smile will thank you!
Limit Sweet Drinks
While relaxing on the shore of an exotic beach, you might be more tempted than usual to sip on a sugary or alcoholic drink. Unfortunately, sweet beverages contain unhealthy amounts of sugar and can lead to tooth decay and enamel erosion. Ideally, you should limit your consumption. But if you must indulge, use a straw to minimize enamel contact.
Drink Plenty of Water
Water is truly one of the best drinks for your oral health! It helps wash away harmful bacteria and sugars, preventing decay, cavities, and bad breath. Plus, it can quench your thirst and keep your body feeling refreshed in hot weather.
Now that you know some summer oral health tips in Cleburne, you can get the most out of your vacation while keeping your smile healthy!
About the Author
Dr. Robert Long has been working for the smiles of his patients for more than 25 years. He earned his dental doctorate from the University of Texas Health Science Center in San Antonio and is a member of the American Dental Association, as well as the Academy of General Dentistry. Dr. Long will be glad to talk more about oral health tips during your next checkup and cleaning which you can schedule on his website or call (817) 645-2437.