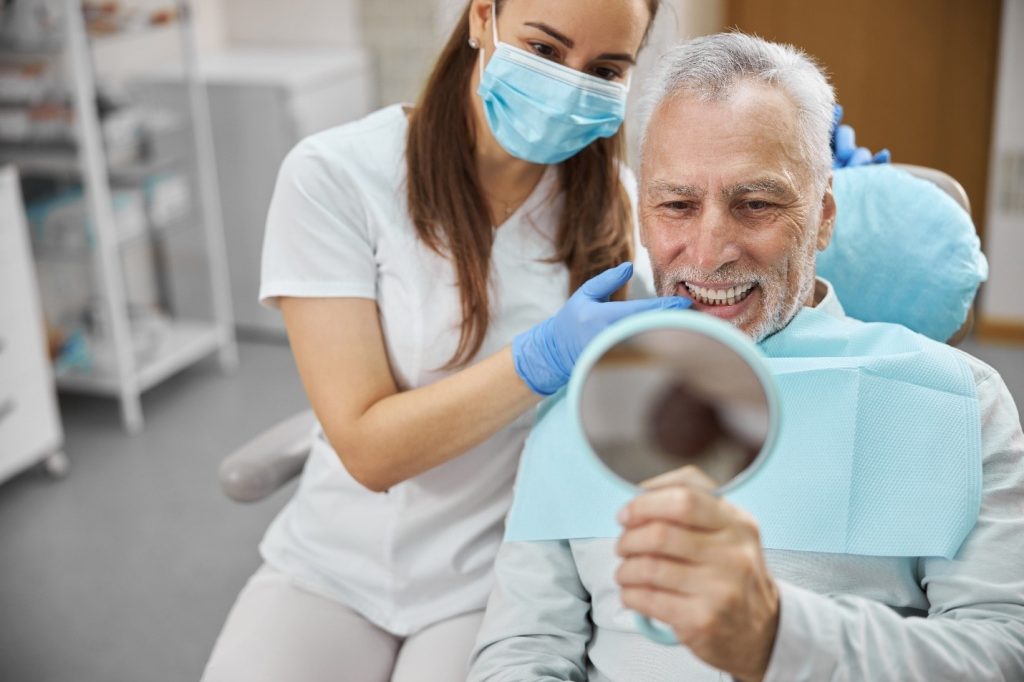 When it comes to tooth replacement, dental implants are unmatched. In addition to replicating both the crown and the root of the missing tooth, they are built to last a lifetime – as long as you care for your smile properly, that is. To ensure your restored bite and beautiful new tooth (or teeth) last, make sure to avoid these five bad dental habits.
Bad Habit #1: Not Flossing
Whether you're missing one tooth or an entire arch of teeth, flossing is essential. After all, one of the biggest culprits of dental implant failure is peri-implantitis. This form of gum disease can compromise the supporting tissue, causing your dental implant to become loose or fall out altogether. To help prevent that from happening, you should carefully floss between every tooth each evening. If you need some help with your technique, don't hesitate to ask your dentist!
Bad Habit #2: Smoking
Smoking is another unhealthy dental habit that can contribute to the short and long-term failure of your dental implant. In fact, patients who use tobacco are 2-3x more likely to experience dental implant failure! Therefore, it's a good idea to quit before the procedure since you'll be asked to refrain from use for several weeks anyway.
Bad Habit #3: Using Your Teeth as Tools
Have you ever used your teeth to open a package, a box, or a bottle? Even if you've yet to run into any problems, all it takes is one time for your teeth to give instead of the item you're trying to open. The same is true for your dental implants. While they are crafted from high-quality materials and designed to withstand the pressure of chewing, it's risky to take the gamble. In short, take the time to find the scissors or bottle opener. Your smile will thank you for it.
Bad Habit #4: Skipping Your Biannual Checkups and Cleanings
Biannual checkups and cleanings are a crucial pillar of any oral hygiene regimen, whether you have all of your natural teeth or none of them. These six-month checkups allow your dental team to check for dental problems, like gum disease, in the early stages, conduct an oral cancer screening, and remove any stubborn plaque and tartar. Plus, they can check on your dental implant, keeping an eye out for any warning signs of dental implant failure.
Bad Habit #5: Eating Too Much Sugar
Do you have a sweet tooth? Then you may be tempted to munch on chocolate, candy, and other treats throughout the day. Unfortunately, excessive consumption of sugar increases your chances of developing serious dental problems. Therefore, it's best to practice moderation. When you can, opt for alternatives that are nutrient-dense, like fruit, or sugar-free.
Dental implants are an investment, so the last thing you want to do is compromise their lifespan. The good news is that avoiding the above unhealthy dental habits can help them stay in pristine condition, allowing you to enjoy your renewed smile and bite for many years to come!
About the Practice
Leading our team at Long Family Dental are Dr. Robert Long and Dr. Chris Long. Growing up, they watched their father serve others by caring for their smiles, and it didn't take long for them to realize they wanted to spend their lives doing the same thing! In addition to having 40+ years of combined experience, they both have completed advanced training in a wide range of treatments, including dental implants and oral surgery. So, if you have a question about dental implants or are ready to schedule an appointment, don't hesitate to visit our website or call (817) 645-2437.