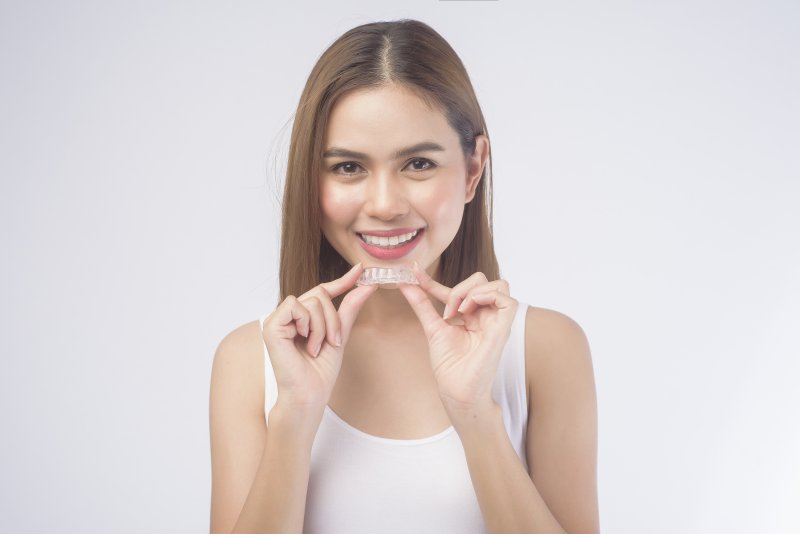 The Invisalign clear aligner system is known for its ability to quickly shift teeth into proper alignment, producing results that are long-lasting and life-changing. While they prove to be an ideal solution for individuals looking for a more subtle method of orthodontics, there are a few things that can temporarily change when starting treatment, one of which is your speech. In this article, we'll discuss what you can expect when it comes to how you talk and what you can do to quickly sound "normal" again.
Invisalign and Your Speech: What Happens?
Just like any other oral appliance, Invisalign is a foreign object that your gums, cheeks, tongue, and teeth must adjust to over time. It's not uncommon if you develop a slight lisp, slur, or change the pace of your speech at the start of treatment. While it is true that clear aligners fit snugly against your teeth, they still take up space, which changes the way your tongue interacts with your teeth.
Fortunately, any speech impediments you may develop will be minor and dissipate within a short period of time.
How to Combat a Lisp or Slur Caused by Invisalign
There may not be much you can do to completely prevent a speech issue from happening when choosing this type of orthodontic system but there are some tips you can keep in mind while navigating the early days of Invisalign treatment. Some of these include:
Continue talking – Believe it or not, the more you talk while wearing your Invisalign aligners, the faster your lisp or slur will go away. Your tongue needs to get used to the newness of the trays, so each time you speak, you're one step closer to sounding clear and concise like before.
Practice words with multiple syllables – Standing in front of a mirror and practicing certain words can help you feel more confident when speaking to others. Words that contain many syllables or that are simply difficult to pronounce can be a challenge, so take your time and practice until you can articulate them more comfortably. You might also try reading to yourself or your loved ones.
Remove them before a performance or speech – Although this is strongly not recommended, you do have the flexibility to remove your aligners if you are preparing to make a speech, perform, etc. To avoid a delay in treatment, you're advised to wear your aligners 20-22 hours each day. The longer you keep them out, the more of an impact it can have on your smile. Also, you'll never adjust to wearing your aligners if you're constantly taking them out, so unless it is a special situation, it's best to look for alternative ways to work on your speech impediment while still wearing your aligners.
Speaking with Invisalign doesn't have to be a difficult task. Yes, it will take a bit of work and practice on your part, but within a few days, you and others won't even notice because it will already be gone. If you're still struggling, talk to your dentist to find out if there is something else you can do to get your speech back to normal as soon as possible.
About the Practice
As a family-owned business for more than 40 years, Dr. Robert Long and Dr. Chris Long are carrying on the work of their father, Dr. Henry Long, who originally established the practice. Alongside Dr. Wes Fichera, they offer Invisalign treatment to patients suffering from overcrowding, gapped teeth, and bite misalignment. If you are wearing clear aligners and struggling with a slight speech impediment, visit our website to find out what tips we can provide to help with the process.