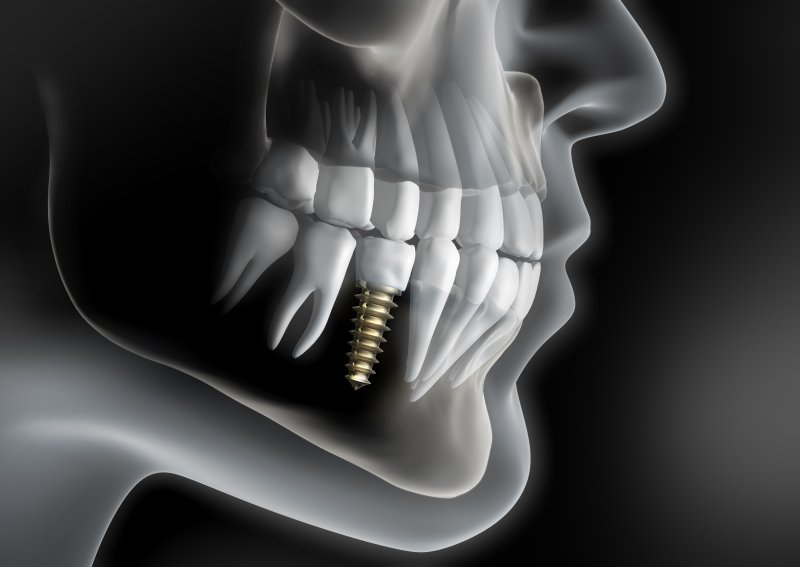 It is highly unlikely that you will experience dental implant failure after having your new prosthetics secured into place within your jawbone. With a success rate of around 98%, you can expect your new teeth to provide the restorative smile you deserve without complications. However, just like all oral surgeries, there are risks involved. Should you fall into the small percentage of individuals who experience a loose dental implant or one that is failing altogether, you may wonder why it is happening in the first place. A local dental is here to explain what can cause this unfortunate incident to occur and what you can do when seeking help.
What Can Cause a Dental Implant to Become Loose or Fail?
Does your dental implant feel loose? Although not a common occurrence, this can happen as a result of one of the following problems:
Incomplete osseointegration – Once you are sent home to recover, osseointegration will begin. This is the fusing of your implants with your jawbone and surrounding tissues. This does take time to complete, hence why you are required to spend at least 3-6 months recovering. However, if your body is unable to heal completely because of a compromised immune system, this will hinder your implants and ultimately cause them to loosen or fail.
Peri-implantitis – If an infection develops in the gum tissue surrounding your dental implant, your prosthetic may loosen. This can happen during surgery but mostly occurs months or even years after initial placement. If you are neglecting your oral hygiene routine, you will raise your risk for this type of problem.
Too much pressure – Although not often, it is possible that your dental implant(s) will not fuse correctly because there is too much pressure applied to them. This is unlikely, but for patients receiving a customized denture the same day as their implant placement, it can be too much for your oral cavity to handle at one time, resulting in the inability of your implants to properly fuse.
What Should You Do if Faced with This Scenario?
Should you notice that your dental implant is loose, it's best not to wait to seek professional help. Your implant dentist is your ally and will work quickly to fix the problem using the best possible course of action. After examining the area, it may be possible that only the restoration is loose and not the actual implant. However, if the prosthetic is not affixed into place as it should be, your dentist may be able to save it without removal. Unfortunately, though, most dental implants that are loose do need to be removed. But don't worry, there is a good chance it can be replaced after an appropriate amount of healing has occurred.
If necessary, you may need to undergo a bone graft to create a stronger, more durable environment for your implants.
A loose or failing implant is rare; however, should you discover a problem with your permanent prosthetics, don't wait to call your dentist. The sooner you get in to treat the issue, the greater your chances of maintaining a full, complete smile.
About the Practice
At Long Family Dental, our team of dental experts has been caring for the residents of Cleburne and Midlothian for more than 40 years. A family-owned business, Dr. Robert Long and Dr. Chris Long are carrying on the work of their father, Dr. Henry Long, who originally established the practice. Joined by Dr. Wes Fichera, the three work closely together to help improve, repair, and restore the smiles of those in need. If you are suffering from tooth loss, Dr. Bob and Dr. Chris are pleased to provide dental implant placement and restoration in-house, making the entire procedure safe, convenient, and effective. Using the most advanced dental technology and equipment, you can feel more confident in your decision to choose dental implants; however, should you experience issues at any point, visit our website.