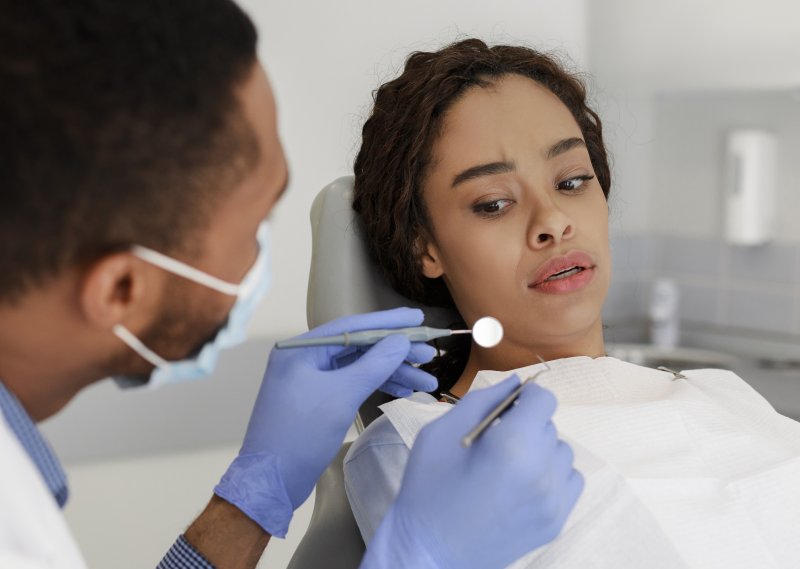 If you struggle with a dental phobia, then you already know how unpleasant even visiting your dentist for a six-month dental checkup can be. Therefore, your natural reaction may be to skip your visits altogether. Unfortunately, this can negatively impact both the function and aesthetic of your smile, requiring more restorative and cosmetic dental work down the line. To prevent this from happening, the best place to start is by identifying the source of your dental-related anxiety. Unsure what it is? Keep reading for a few common causes, tips for managing your nerves, and how your dentist can help.
Common Causes of Dental-Related Anxiety
According to the US National Library of Medicine, a few of the most common causes of dental phobia are:
A previous traumatic dental experience.
Indirect vicarious experiences, like seeing a family member struggle with a fear of the dentist.
Generalized anxiety disorder.
Fear of loss of control.
Anxiety associated with the sights, sounds, and smells of a dental practice.
5 Tips to Managing Your Dental Phobia
No matter how well you care for your teeth and gums at home, your oral hygiene routine isn't complete without your six-month visits to the dentist. Since even routine checkups and cleanings can be the source of mild to severe anxiety, using the below coping techniques can be extremely useful:
Deep breathing.
Meditation.
Distraction, like listening to music or watching a TV show.
Guided imagery.
Progressive muscle relaxation.
How Your Dentist Can Help
All too often, patients feel like they can't share their fears and concerns with their dentist. In reality, your dental team wants to know what they can do to make your experience at their practice a good one. For this reason, many dentists adopt the "explain first" method, where they explain what they are going to do before they actually do it. This ensures patients don't feel like they are in the dark, allowing them to relax in the treatment chair. If you struggle with more severe anxiety, then ask about sedation dentistry. That way, you can enter a deep state of relaxation, effectively keeping your anxiety at bay throughout your appointment.
Dental phobia is extremely common and nothing to be ashamed of. If you have been putting off visiting the dentist due to dental-related anxiety, then use the above coping mechanisms or ask about sedation dentistry before your visit!
About the Practice
Over 40 years ago, Long Family Dental opened their doors to the Cleburne community. The goal? To provide patients nearby with skilled care, comfortable attention, and top-notch dentistry. All these years later, Dr. Bob and Dr. Chris are living out that original mission each day and at every appointment. They are never interested in passing judgment or giving lectures – they just want you to get the dental work you need in a stress-free (even enjoyable!) environment. If you struggle with dental phobia, don't hesitate to get in touch with our team through our website or by phone at 817-645-2437.