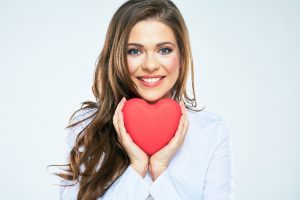 About one in four deaths in the United States is due to heart disease, according to statistics from the Centers from Disease Control and Prevention. Since February is American Heart Month, it is the perfect time for all of us to pause and consider what we can do to protect our hearts. Of course, exercise and nutrition are both vital. But did you know that your gums also play a role in heart health? Let's talk about the connection between gum disease and heart problems.
The Mouth-Heart Connection
Various studies have shown a correlation between gum disease and heart disease. In fact, according to one group of researchers, gum disease can increase the risk of heart disease by about 20 percent. Why is that the case? Many believe that it is due to bacteria. The mouth is a gateway to the rest of the body, so when the harmful bacteria that causes gum disease begin to flourish, they can sneak into the bloodstream and affect other systems throughout the body — including the cardiovascular system.
Another theory that may explain the correlation between gum disease and heart disease is inflammation. Gum disease increases the body's burden of inflammation, which in turn may damage blood vessels.
More research is necessary before scientists can come to any concrete conclusions about why gum disease and heart disease are connected. However, it is generally agreed that gum problems are a significant risk factor for heart problems.
Protect Your Smile, Protect Your Heart
Fortunately, fighting gum disease is not too difficult for most people. Here are some steps you can take during Heart Health Month to protect yourself:
Visit your dentist. Regular dental cleanings can do much to reduce your risk of gum disease. If your dentist notices early signs of gum disease, they may be able to help you reverse the condition before it poses a serious threat to your oral or overall health.
Kick bad habits. Smoking is terrible for both the heart and the gums. If you smoke, it would be wise to talk to your general care provider about how you can kick the habit for good.
Examine your oral hygiene routine. You should brush your teeth twice a day and floss once a day. If you are unsure about how to brush and floss correctly, your hygienist would be happy to coach you at your next preventive dental appointment. They might also recommend specific products to help you take excellent care of your teeth and gums.
Taking care of your smile could save your life! Doing all you can to fight gum disease may protect your precious heart.
Meet the Practice
Drs. Robert Long, Chris Long, and Wes Fichera are proud to provide comprehensive dental care to families in Midlothian, Cleburne, and the surrounding areas. They offer multiple types of gum disease treatment, including deep cleanings and laser gum therapy. If you would like their help to maintain a healthy smile — and perhaps protect your heart in the process — contact our office at 972-775-3192.