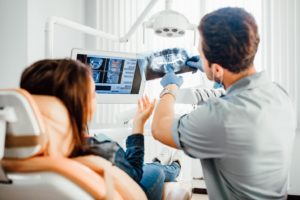 When it comes to the health of your teeth and gums, prevention is key. Unfortunately, 35% of Americans don't brush their teeth daily, nearly 50% don't visit the dentist twice a year, and a whopping 30% never floss. If these statistics sound all too familiar, then there is no time like the present to implement a solid dental hygiene routine to reduce your risk of experiencing the below most common oral health problems.
#1. Cavities
With over 90% of Americans having at least one cavity by their 21st birthday, it's safe to say that tooth decay is a rampant issue among children and adults alike. In fact, the Centers for Disease Control and Prevention reported that tooth decay is one of the most prevalent conditions today (second only to the common cold!). The good news is that cavities are largely preventable by limiting sugary foods and beverages, brushing and flossing your teeth twice a day, and visiting your dentist every six months for a professional cleaning.
#2. Gum Disease
Currently, roughly 50% of U.S. adults struggle with gum disease. However, few are aware that this infection can lead to serious consequences, like tooth loss and heart disease, if neglected. Fortunately, you can significantly reduce your risk by implementing a diligent flossing routine to remove debris and food particles that irritate your gums. Additionally, make sure to visit your dentist twice a year for a checkup. That way, your dental team can catch gum disease in the early stages and administer treatment quickly.
#3. Oral Cancer
According to the American Cancer Society, over 53,000 cases of oral cancer will be diagnosed in 2020 alone. Luckily, the survival rate increases exponentially with early detection, which is why your routine appointments are so important. After all, your dentist dedicates a portion of their exam to look for warning signs, like red or white specks, rough spots, or unusual bleeding. This allows them to intervene in the initial stages for the highest likelihood of treatment success.
The above three conditions can affect anyone and everyone, which is why it is essential to reduce your risk through prevention. With that being said, make sure to complete your oral hygiene routine each morning and night, and visit your dental team every six months for a professional checkup and cleaning.
About the Practice
For over four decades, Long Family Dentistry has helped countless patients achieve pristine oral health with personalized attention, a highly trained team, and a comprehensive array of services in-house. Today, they have two convenient locations, use state-of-the-art technology, and implement the same patient-centered philosophy of care they are known for. So, whether you are overdue for your bi-yearly exam or need periodontal therapy, don't hesitate to visit their website!