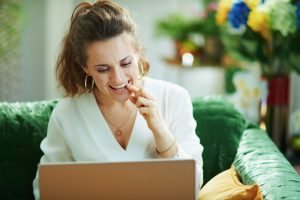 Even if you work in the dental field, there's a good chance you are surprised by the changes that occur each day in technology, science, and research. From equipment that makes procedures quicker to machinery that produces higher resolution images for more accurate treatment planning, most professionals are shocked to see how different dentistry is today in comparison to even 20 or 30 years ago. If you're interested in what is to come, read on to learn about the 5 new dental trends that are expected to make their mark in the next decade.
The Introduction of Artificial Intelligence (AI)
You've seen all the movies that show robots taking over and humans slowly disappearing from the workspace. Fortunately, that's not what is projected to happen in the next decade, but it is expected for there to be more AI in the dental office, especially as it pertains to reviewing dental X-rays, creating clear aligners that are more comfortable to wear, and saving dentists time by offering patients greater solutions. Instead of having individuals return to the dentist's office each time a problem occurs, AI can assist in identifying oral pathologies, allowing professionals to provide more efficient care in fewer visits.
The Normalization of Group Dentistry
Dental insurance can be an overwhelming and difficult realm to navigate for both patients and dental staff. Most individuals have difficulty understanding their coverage, how to get the most out of their plan, and where to find a dentist who is in-network with their plan. In the next 10 years, there is a good chance that more dentists and their practices will come together to provide more affordable and consistent care as well as offer greater opportunities for training and job placement.
Shifting the Responsibility to Dental Hygienists
Dental hygienists are an integral role in any practice. Not only do most of them perform regular cleanings, but they work closely with the dentist to assist during procedures, help patients undergoing restorative treatment, and help to ease and calm the nerves of those filled with anxiety while visiting the dentist's office. It appears, however, that their role will become even more important in the coming years, as they will likely be responsible for much more of the early stages of dentistry. This will free up the dentist to spend more time helping patients who need more complex treatments like dental implants, clear aligners, and dental crowns.
Changing the Way You Pay
If you asked someone 10 years ago if using your phone to pay would be possible, they probably would have laughed. However, the immediate ability to pay without the use of cash or credit cards is quickly becoming the norm for up-and-coming generations. It's no surprise that dental practices will be looking for ways to streamline their payment processes as well as scheduling and pre-authorizations. Because it is believed dental will become more integrated into overall healthcare systems, patients will more easily have access to their dental information, allowing them to feel more confident in the coverage they pay for each month.
On-the-Go Dentistry
The term "telehealth" has become extremely common, especially since the start of 2020's global pandemic. With doctor's offices offering patients the ability to remain safely at home while talking to a doctor via a computer screen or camera phone, dentistry is expected to move in the same direction. But "teledentistry" isn't the only update that's expected. Mobile dental clinics are also expected to become a normalcy, making it easier for patients to have options when it comes to scheduling when it is most convenient.
There's no denying that dentistry is moving full steam ahead, and it's only a matter of time before new and exciting trends are causing these to be a thing of the past. Hold on, because 10 years from now, you may be surprised at the changes you see when visiting the dentist.
About the Practice
At Long Family Dental, our team of dental experts has been caring for the residents of Cleburne for more than 40 years. A family-owned business, Dr. Robert Long and Dr. Chris Long are carrying on the work of their father, Dr. Henry Long, who originally established the practice. Joined by Dr. Wes Fichera, the three work closely together to help improve, repair, and restore the smiles of those in need. Offering comprehensive care, they will go above and beyond to offer reliable solutions that are safe and effective, ensuring all patients achieve outstanding results. If you and your family are looking for a dental practice to call home, visit our website.