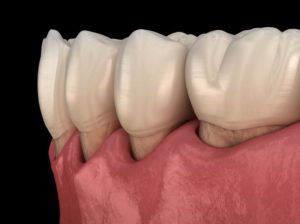 Do your teeth suddenly appear longer than they used to? Are you feeling embarrassed by your smile? If so, you're not alone. Gum recession is a common problem many people experience. There are many reasons why it can occur, but there are things you can do to prevent it from happening in the first place. Read on to hear what your dentist has to say about being proactive and taking the necessary steps to protect your gum and oral health.
Why Do Gums Recede?
Fortunately, gum recession is not something that occurs quickly. Over time, you will slowly begin to notice your teeth appearing much longer. In fact, you may not even realize it's happening until you wake up one morning and start surveying the look of your smile. While aging and general daily use are both normal reasons for gums to recede, there are things you may be doing that are causing them to retreat much quicker, such as:
Brushing your teeth and gums too hard
Smoking or using tobacco products
Grinding or clenching your teeth
Pushing down on your gums with dental floss
Whitening your teeth too often
Neglecting your oral hygiene routine
Is It Normal for Gums to Recede?
To consider it "normal" is incorrect. Gum recession should never be something that naturally happens; however, it is highly unlikely that you, along with most individuals, will not experience it at some point in your life. Why? Because the habits you develop and carry out now can play an integral role in the future of your smile.
Many of the reasons listed above are things you can control. While you cannot stop the aging process and natural changes that occur to your face and smile, you can manage your habits, how well you maintain your teeth and gums, and how you protect your pearly whites and soft tissues from becoming damaged.
Preventive Steps to Avoid Receding Gums
If you want to ensure your gums remain in place and your smile looking its best, there are a few things you can do to prevent this common occurrence from happening, including:
Protecting Your Smile with a Mouthguard: Whether you play sports or suffer from bruxism, a mouthguard can better protect your teeth and gums from wear and tear and damage.
Inquire About Smoking Cessation: No matter if you've been a lifelong smoker or just recently picked up the habit, talk to someone about available cessation resources to help you quit.
Be Gentle While Brushing and Flossing: If you use a manual toothbrush, try switching to an electric one. This will do most of the work for you and allow you to be gentler with your teeth and gums.
Be proactive when it comes to your oral health. Take the necessary steps now to avoid gum recession later. Your smile will thank you for it.
About the Practice
At Long Family Dental, our team of dental experts has been caring for the residents of Cleburne for more than 40 years. A family-owned business, Dr. Robert Long and Dr. Chris Long are carrying on the work of their father, Dr. Henry Long, who originally established the practice. Joined by Dr. Wes Fichera, the three work closely together to help improve, repair, and restore the smiles of those in need. Offering comprehensive care, they will go above and beyond to offer reliable solutions that are safe and effective, ensuring all patients achieve outstanding results. If you and your family are looking for a dental practice to call home, visit our website.