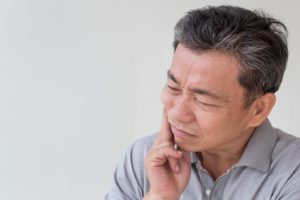 Dentures have helped generations of patients to rebuild lost smiles. When they fit well, they can enable you to eat most foods, they look fantastic, and they are relatively comfortable. Unfortunately, their fit tends to become worse over time due to changes in the jaw's structure. It is important that you regularly visit your dentist so they can reline (adjust) your prosthetic. Otherwise, you will be at risk of suffering from the following five health problems that can be caused by ill-fitting dentures.
1.     Pain
Ill-fitting dentures can rub against the gums, causing painful irritation and inflammation. They can also put a strain on your jaw and facial muscles when you are eating and speaking, an issue that can exacerbate or even cause TMJ dysfunction.
2.     Blister Development
As the dentures rub against the gums, blisters (also called denture sores) can quickly develop. In addition to afflicting the gums, the blisters may also occur on the roof of the mouth.
3.     Infections
Blisters, cuts, and scrapes caused by ill-fitting dentures are more than a mere discomfort. Open wounds give bacteria an opportunity to invade the body and cause infections. In a worst-case scenario, such infections may lead to significant tissue damage and systemic illness.
4.     Headaches and Earaches
The muscle tension caused by poorly fitting dentures can lead to painful headaches. Your ears may start to hurt as well because the jaw joint (TMJ) is very close to your ears, and when it is strained, the pain can easily radiate to nearby areas of the head.
5.     Eating and Speaking Difficulties
Dentures that fit properly can handle a wide variety of foods. When their fit changes, however, it may become more and more difficult to chew on nutritious items like fruits, vegetables, and meats.
Additionally, clear speech depends on complex interactions between the tongue, teeth, and other structures. If your dentures tend to slip and slide around your mouth, you may find it difficult to articulate certain sounds.
How Your Dentist Can Help
It is important that you visit your dentist as often as they recommend. At each appointment, they'll examine your dentures and your mouth. They will adjust your dentures as needed and help you prevent most of the issues that can come with a poorly fitting prosthetic. Every 5 – 10 years, you will likely need to get your denture replaced altogether.
Your dentist might also suggest that you consider investing in dental implants. Implants are prosthetic tooth roots that can anchor a denture in place and prevent the jawbone from changing shape.
Are your dentures getting you down? Your local restorative dentist is ready to help you address the issue and get your oral health back on track.
About Our Practice
Our team has been serving Cleburne and the surrounding communities for more than 40 years. Drs. Robert and Chris Long are honoring the legacy of our practice's founder, Dr. Henry Long. Dr. Wes Fichera works alongside them to bring top-tier care to our family of valued patients. We offer a broad range of treatments, including dentures, dental implants, and much more. To learn more about us and our services, contact either one of our conveniently located offices.