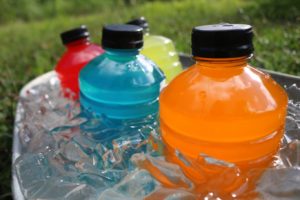 If you're active during the hot summer months, you may reach for sports drinks to stay hydrated. But did you know that they can take a big toll on your dental health? In fact, sports drinks can cause three times as much damage to your teeth as soft drinks, and even sugar-free options increase your risk of cavities if you have them too often. Fortunately, there are alternative ways to stay hydrated that don't involve frequent trips to the dentist! Learn more below about the dangers of these beverages and how to keep your smile healthy.
How Sports Drinks Increase Your Risk of Cavities
Most people know that sugar in foods and beverages, including sports drinks, can lead to tooth decay. But that's not the only ingredient to be aware of: Citric, phosphoric, and tartaric acids are also a concern. These acids are present in sugar-free sports drinks and wear away at your enamel over time. And when you drink a sports drink that contains sugar as well, the tooth decay process occurs even faster.    
Not to mention that how frequently your teeth are exposed to sugar and acid is also a risk factor, and sports drinks are usually sipped over a period of time. This ongoing "sugar and acid bath" is a recipe for getting a lot of cavities.
How Can You Keep Your Teeth Healthy?
Sports drinks are beneficial because they contain electrolytes that are lost through sweat, but the following options will keep you hydrated without jeopardizing your teeth:
Drink plenty of plain water and eat light snacks like fresh fruit (bananas, strawberries, apples, or grapes are all good choices).
To replenish electrolytes, put ¼ or ½ teaspoon of sea salt into your water bottle.
You may also try coconut water. It's a low-sugar option that doesn't contain acids but still has the electrolytes your body needs.
Also, don't forget that you can have a sports drink occasionally as long as you aren't making it your primary choice. And, as always, don't forget to see a dentist for regular checkups, brush and floss daily, and use a fluoridated mouthwash if you're particularly cavity prone.
Learning about the oral health risks of sports drinks is a great first step to making better choices. Along with some alternatives and a few good habits at home, you can minimize the dental work you need while still staying hydrated.
About the Author
Dr. Chris Long has been a family dentist for more than 15 years and graduated from the University of Texas. He and his staff always like to be proactive about prevention by educating their patients on good dietary choices and oral hygiene habits. If you'd like more information about the impact of sports drinks or have any questions, you can reach Dr. Long via his website.