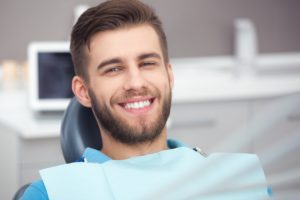 There are many different reasons for tooth loss, including gum disease, accidents, genetics, large cavities and more. Regardless of the reason, one thing remains the same: It affects every area of your life, including your confidence. However, losing your teeth doesn't mean a life sentence of avoiding certain foods or feeling self-conscious at work. With a replacement option like dental implants that look and feel very natural, you may forget you ever lost teeth to begin with. Learn more below about the 5 ways implants improve your self-confidence.
1. You Can Eat Your Favorite Foods Without Worry
Whether it's lunch with your co-workers or a romantic dinner date, the last thing you want is to feel embarrassed because you have to avoid certain foods or you have a denture that slips.
If you're missing multiple teeth, dental implants will restore their appearance and function so you can eat hard, crunchy or tough foods with ease. And if you wear dentures, an implant dentist can stabilize them with just 2-6 implants so you won't have to worry about slips ever again.
2. You'll Retain a More Youthful Appearance
As soon as the teeth are lost, the jawbone that once surrounded the roots begins to deteriorate. Over time, the jaw becomes thinner and can't support the muscles in the face the way it once did. This leads to an aged, sunken-in facial appearance.
However, since dental implants mimic natural teeth, they stimulate and maintain the jawbone. This prevents bone loss and helps you hang on to a youthful appearance for longer.
3. You Can Smile and Laugh Without Embarrassment
If you have visible empty spaces that show when you smile or laugh, it may be all you can think about when you're around other people. You may even be in the habit of covering your mouth or even avoiding smiling altogether after tooth loss.
With dental implants, feeling self-conscious will be a thing of the past. With your smile intact, it will be much easier to navigate both your personal and professional life.
4. Your Results Will Last
Traditional dentures typically need to be replaced every 5-8 years, while bridges last an average of 10. Dental implants are unique because they can last 30 years or more with proper care and maintenance. In fact, they're the only replacement option that's considered a permanent solution for tooth loss. You can be confident that you've made an outstanding long-term investment in your oral health that will pay off for life.
Dental implants do more than simply restore your teeth – they also help you feel great about your smile again. And the value of that can't be overstated!
About the Author
Dr. Robert Long has been practicing as a general and implant dentist for over 25 years. He often recommends implants after tooth loss because they're the most natural replacement option available. He's also seen firsthand how they improve his patients' self-image and positively impact their lives. If you'd like more information about dental implants or have any other questions, he can be contacted via his website.