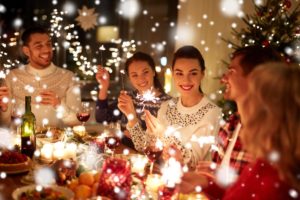 Whether you're traveling for the holiday season or staying close to home this year, it can be easy to put your oral health at the bottom of your priority list. But, despite your hectic holiday schedule, any efforts at keeping your smile healthy are well worth it. After all, the last thing you want is to see an emergency dentist for a painful dental problem when you should be enjoying yourself. Fortunately, there are some easy ways to stay on track with your oral health without turning into a total Scrooge! Keep reading below to learn more.
Schedule a Holiday Checkup and Cleaning
If you're overdue for a checkup and cleaning, this is the perfect time to schedule. Although it's common for people to think they're too busy for a dental appointment over the holidays, a little prevention will ultimately save you time, hassle and pain later on. Especially since dental emergencies like toothaches often happen at the most inconvenient time (like Christmas Eve).
On top of making sure you don't have any dental problems brewing, a professional cleaning will help your smile look and feel its best as you head into the new year.
More Easy Ways To Prevent Holiday Dental Emergencies
While you can always see an emergency dentist if necessary, it's far easier to prevent problems than treat them. Here are some helpful habits to help you do that:
Don't neglect your oral hygiene routine – The better your oral hygiene is, the fewer dental problems and emergencies you'll have. And while it's easy to get out of your routine, especially if you're traveling for the holidays, do your best to keep up with brushing 2 minutes, twice a day, and flossing once. It's also a good idea to swish with a fluoride (anti-cavity) mouthwash for extra cavity protection.
Be careful with certain foods – Hard or crunchy foods like peanut brittle can put you at risk for chipping a tooth or breaking your dental work, so be mindful when you chew. And if you have something sticky like caramel or pecan pie that adheres to your teeth, try to brush as soon as possible.
Practice on-the-go oral hygiene – If you have a holiday treat and can't brush, chew sugar-free gum or at least swish with plain water several times. This washes away residual sugars before they can damage your teeth.
Nothing will ruin your holiday cheer like a dental emergency. With these easy tips, you can avoid these situations altogether and have a happy, healthy holiday season!
About the Author
Dr. Chris Long is a general and emergency dentist with over 15 years of experience. As a busy father of two, he knows how hectic the holidays can be and always provides tips to help his patients stay on track with their oral health. If you want to know more about maintaining your smile during the holidays or have any questions, he can be reached via his website.