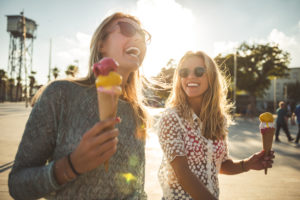 Did you know you can get dental veneers from your trusted dentist in Cleburne? The team at Long Family Dental provide this transformative cosmetic treatment for patients who are looking to transform their smiles. You don't have to drive to Fort Worth or Dallas for high quality cosmetic dentistry — but what are dental veneers? And why might you need them? Stick around, because we cover these important questions and more in this week's blog post.
Why Are Veneers Necessary?
Many people can benefit from smile transformation with dental veneers. They are thin, tooth shaped coverings made of dental porcelain — a material that looks, feels, and functions just like your natural tooth enamel. The only difference is that porcelain is more resistant to staining than natural teeth, so you can expect your veneers to stay the same beautiful shade of white for years after placement.
Veneers can cover up any number of cosmetic imperfections affecting the front teeth. They are reserved for making aesthetic improvements to otherwise healthy teeth. Most adults over the age of 18 who are unhappy with the appearance of their front teeth are eligible candidates for dental veneers.
Some of the most common uses for dental veneers include:
Covering up cracks or chips
Filling slight gaps in the teeth
Remaking irregular dental surfaces (pits and grooves)
Enhancing the shape of short, stubby, or pointy teeth
Hiding severe stains that have not responded to professional teeth whitening
What Is the Process for Veneers?
If veneers are the best option for your smile, you can expect the procedure to be completed over the course of two visits to our office. In the first, we will put together a treatment plan and prepare your teeth to receive the new restorations. By carefully removing a small portion of enamel from the surface of each tooth, we can ensure your veneers will fit perfectly in your smile.
When you come back for your second visit, your veneers have been created and they are ready for placement. Your dentist removes the temporaries that we placed for you to wear between visits — then, once we are sure everything is just as it should be, the permanent veneers are securely affixed to the surface of each tooth.
How Do I Care for My New Veneers?
We know you'll love your new smile, and you will want to make sure your veneers remain intact for as long as possible. Veneers can last for many years when cared for properly. Be sure to wear a custom-fitted mouthguard if you play sports or grind your teeth at night. Avoid damaging habits like nail biting, chewing on ice, and biting into plastic or packaging. Other than that, continue to brush, floss, and visit your dentist regularly for continued oral health and wellness!
Find Out If You're a Candidate for Veneers Today
If you are interested in porcelain veneers in Cleburne, there's no better time than right now to learn about whether or not they could be your best smile solution. Get in touch with Long Family Dental to schedule an appointment today!