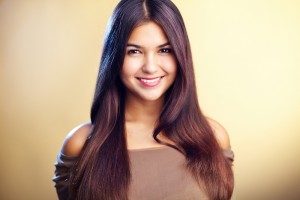 Are you unhappy with the appearance of your teeth? Are small flaws detracting from your smile? Your dentist can help with cosmetic dental bonding. This is a cosmetic dentistry treatment that can revitalize your smile.
Cosmetic bonding is a treatment used to correct minor flaws that are marring your smile. It's best used to cover up dark spots, stains, misshaped teeth or small gaps. This is a great alternative to porcelain veneers that is also more affordable. Cosmetic bonding uses resin, which is carefully color matched to blend in with the rest of your smile, giving you a natural look.
Your dentist will start your cosmetic bonding treatment by roughing your tooth surface to allow the bonding material to attach to your teeth. A primer agent is used to help the resin attach to the tooth. Once the resin is applied, it is smoothed into place and hardened with a special light. It will be shaped and polished to complete the restoration.
If your smile has some minor flaws that are detracting from the beauty of your smile, your dentist can help. Cosmetic bonding is a great way to help smooth over these minor flaws and enhance your smile. Give your dentist a call to learn more about this great smile solution.
At Long Family Dental, we provide quality general, restorative and cosmetic dentistry services in Cleburne and Midlothian. Give us a call today to schedule your next appointment. Dr. Bob and Dr. Chris Long are here to help you achieve a healthy, beautiful smile.