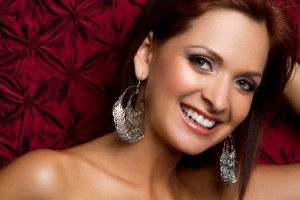 If you have a tooth that is broken, cracked or weakened, it's important to repair it to maintain the health of your smile. Often a filling will be used. In cases where the damage is more extensive, your dentist will use a crown to restore your tooth.
Crowns are a great restorative dentistry treatment used to repair your teeth. A broken or damaged tooth not only makes it more difficult to eat, but also impacts the health of your entire smile. A damaged tooth is more susceptible to disease and infection. This type of restoration is also helpful for completing a root canal treatment or treating a large cavity.
It will usually take your dentist two visits to fully repair your tooth using a crown. Your dentist will start off the first visit by removing the damaged or decayed portion of your tooth. Then an impression will be made of your tooth that is used to create your crown. Crowns can be made out of a variety of materials, but porcelain is a popular choice because it more closely resembles a natural tooth. You'll have a temporary crown fitted to your tooth.
At your second dental visit, the crown will have been completed and will be affixed to your tooth. Your smile is now complete and healthy once again. Some dentists use methods such as the E4D system that allow them to make your crown and complete the restoration all in the same dental visit.
A damaged tooth needs to be repaired quickly to restore and maintain the health of your smile. Your dentist can help by capping your affected tooth with a crown. Call them to learn more and see how a crown can have a positive impact on your teeth.