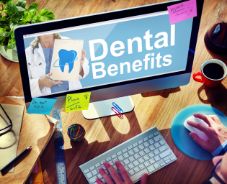 If you're like most people, you say the same thing at the end of every year: Where did the time go?! It seems like just yesterday that we were ringing in the New Year, yet here we are and the next New Year's is right around the corner. And that's not the only thing that'll be here soon: Your dental insurance will be expiring, too. Many people miss out on hundreds of dollars in benefits each year by not seeing a dentist in time. Not to mention that they don't get the dental care they need for a healthy smile. Keep reading for some tips on taking advantage of your plan and find out why scheduling a checkup and cleaning right away is so important.
The Importance of Scheduling Your Checkups Right Away
Preventive care like checkups and cleanings are usually covered at 100% (some plans cover them at 80%). Since they're nearly or completely free for insured patients, you should definitely take advantage by scheduling these visits for the whole family. Not only does preventive care cost you nothing, it's also one of the most important things you can do for the health of your smile.
Many dental problems, including cavities and gum disease, don't feel painful or give you much of an indication in the early stages. But this is when they can found during a routine checkup and treated with relatively easy, inexpensive procedures. If people wait until they're in pain to come in, they usually need more extensive dental work. Regular checkups also maintain your existing dental work and help it last longer.
Also, professional cleanings twice a year are very important for preventing or managing gum disease. On top of causing tooth loss, this common condition also increases your risk of cardiovascular disease, diabetes, pregnancy complications, stroke, certain cancers, and dementia.
Tips To Get the Most From Your Dental Insurance
In addition to making sure to schedule routine visits early, here are some other tips to maximize your benefits:
Most dental insurance plans renew on January 1st, but it's a good idea to double check by looking at your guidelines. You should also review your deductible and coverage amounts to get an idea of your financial benefits. If you have any questions, you can always call your dentist for clarification.
Schedules fill up quickly, particularly towards the end of the year. Make your appointments as soon as possible to make sure you can be seen. Also, if have a checkup and wind up needing additional work, you'll have plenty of time to schedule it.
Your insurance company sets aside a certain amount of money each year (called an annual maximum) for your dental work. The American Dental Association found that the average is $1,250 per person, but that most people only get around $300 of dental work. That means missing out on a whopping $900 in benefits!
Remember, if you're lucky enough to have dental insurance, you may as well use it before it's too late.
About the Author
Dr. Chris Long is a general, cosmetic, and restorative dentist and a graduate of the University of Texas Health Science Center. His office is in-network with many different insurance companies to meet as many patients' needs as possible. If you have any questions about dental insurance or your oral health in general, you can contact him via his website.