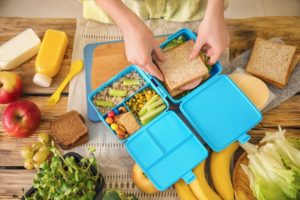 Can you believe that another summer is over and it's already back-to-school time? While it's certainly a busy time for any family, it's also a great opportunity to start the year right by learning how to pack healthy school lunches. Along with scheduling checkups with a children's dentist and encouraging good brushing and flossing, low-sugar lunches are one of the best things you can do to keep your child's smile healthy. Below, you'll learn about the impact of sugar and get some great ideas for packing a healthy lunch for your child each day.
How Does Sugar Cause Cavities?
Everyone has bacteria in their mouth, including a specific strain that causes cavities. When these bacteria consume sugars and carbohydrates, they produce acid that eats away at the enamel. And when your child eats or drinks sugar frequently, the risk of cavities is very high.
In addition to being bad for the teeth, sugar also increases the chances of childhood obesity and diabetes. Unfortunately, sugar is everywhere, even in foods that you wouldn't expect. And while it's fine for kids to enjoy sugar every now and then, eating it at breakfast, lunch, and dinner each day can be very detrimental for both their oral and general health.
Healthy Foods and Not-So-Healthy Foods
Here are some convenient, low-sugar foods to include in your child's lunches:
Lunch meat and cheese "roll-ups"
Tuna fish salad
String cheese
Apple slices
Soup
Cheesy broccoli and cauliflower
Nuts
Olives
Guacamole or spinach dip with veggies
Egg salad or simply boiled eggs with salt
Coleslaw
Plain (sugar-free) yogurt with fresh or frozen fruit
Peanut butter and celery
Popcorn (you can experiment with garlic salt, dried herbs, parmesan cheese, etc. to keep it interesting)
Meatballs
Avoid these foods altogether or only include them as a special treat:
Candy, especially sticky or gummy candies that get stuck in the teeth.
Sports drinks contain both acids and sugars. If consumed frequently, they can cause rampant tooth decay.
Dried fruit
Juices
Flavored yogurts that contain sugar
Granola
Trail mix
Smoothies that mainly contain juice or pureed fruits (whole fruit is better)
And, as always, don't underestimate the importance of regular checkups with a children's dentist and good oral hygiene habits at home. Along with low-sugar lunches each day, these simple guidelines will keep your child's smile healthy and happy all year!
About the Author
Dr. Chris Long is a family dentist with over 15 years of experience and also a father of two. He knows it can be difficult to pack healthy school lunches that children enjoy and often gives parents tips to help them minimize the risk of cavities. If you have any questions about dietary choices for your kids, he can be reached via his website.