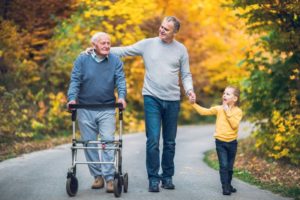 Your family is the most important thing to you in the world. You would do anything for them. When it comes to their oral health, you want to find a dental practice that can meet their needs and help them have the kind of experience that sets them on the path to oral health in the future. Well, a family dentist can do that for every member of your family, even young children. Keep reading this post to learn about the benefits of choosing a family dentist for the ones you love most.
One-Stop Shop
You already chauffer your children to soccer practice, ballet class, piano lessons, and more. For your family's dental health, you can have just one stop for everyone—your family dentist. Whether your child needs a cavity filled or you need a root canal or a dental implant, you can go to the same place and save yourself a few unnecessary headaches. Especially if you have a dental emergency, it can comforting to know that your family dentist can resolve the problem in-house. When you have a dental office that can perform many of the procedures that your family will need under one roof, why would you want to go anywhere else?
No Transitions for the Kids
With life changes, some transitions are necessary. For instance, your child eventually learns how to drive or graduates high school. That doesn't mean that all transitions are easy or fun. If you've gone to a pediatric dentist for your child, having to adapt to and get to know a new dental home after turning age 18 can be an unpleasant experience for them. It's simpler and easier to find a family-friendly dental office that can treat your entire family—both old and young—from the start. That way, no one has to worry about starting from scratch with a new dental office down the road.
Friendly, Caring Team of Dental Professionals
Your family dentist is more than an experienced professional who helps patients of all ages. They and their staff have families too and treat their patients' families how they would want their own to be treated. As a result, finding a quality family dental office means that you'll enjoy a welcoming reception and compassionate care every time you go in, making dental visits much more pleasant and even potentially enjoyable. And these positive experiences can make all the difference, particularly for children, and motivate them to continue healthy oral practices in the future.
In the end, you would do anything to protect your family, and that includes protecting their smiles. Regardless of whether it's for preventive care or complex dental work, your family dentist can provide the care that your loved ones need. You can rest assured that their oral health is in capable, gentle hands. See the difference your family dentist can make by scheduling an appointment with them today!
About the Practice
At Long Family Dental, Drs. Robert and Chris Long are brothers and were born and raised in Cleburne. They joined their father in the family business of dentistry and the family practice in 1995 and 2004 respectively. Both have earned fellowships with the International College of Oral Implantology and continue to hone their skills and knowledge with continued education. They also each have children of their own. To make an appointment with them, call (817) 645-2437 or click here.