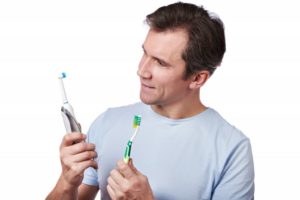 There are many different types of toothbrushes to choose from already. Now it seems every oral care company has to have an electric toothbrush just to compete. With so many products to choose from, it can be tough distinguishing their features. If this is your first time buying an electric toothbrush or you're looking something to better fit your lifestyle, keep reading.
Your dentist has researched tons of electric toothbrushes and determined these are the factors you should consider the next time you start shopping for one. Your electric toothbrush should make cleaning your teeth easier and more effective, not unnecessarily cumbersome or uncomfortable.
For Patients Who Brush Too Quickly
If you come back from the dentist with cavities even after brushing twice a day, you may need to reconsider your timing while brushing. A toothbrush with a built-in timer can dramatically improve your brushing habits, as their timer pulsates for every 30 seconds that have passed. This means when you feel your brush pulsate four times, you've brush for a total of two minutes.
This is also ideal for children who are just learning to brush. The 30 second intervals are also meant to inform you when it's time to brush another region of your mouth, so this can help teach kids the importance of getting all the areas and not just the teeth in front.
For Those Who Tire Easily While Brushing
Multiple studies have shown that electric toothbrushes with rotating-oscillating heads require less movement to clean teeth properly than those without. By spinning 360 degrees, the head of the toothbrush performs a more concentrated clean than brushes that move from side to side.
To use these toothbrushes effectively, slowly move the vibrating brush around the sides and on the top of each individual tooth. Make sure to spend at least 30 second on the four corners of your mouth so it amounts to two minutes of brushing time.
If You Have Sensitivities While Brushing
If you have sensitive teeth or gums but still want to use an electric toothbrush, look for brushes with entirely silicone bristles attached. These are designed to rub rather than scrub your teeth and gums, making it easier on them.
If you're more bothered by the noise electric toothbrushes produce, look for brushes that have a "reduced noise" feature on the packaging. While electric brushes will emit some sort of sound during use, many manufacturers are catering to those with sensitivities of all kinds. These brushes also have smaller strokes, which could ease their feel against your mouth as well.
If You're Always on the Go
For the traveling professional, portability is essential in a toothbrush. Many of the high-end electric toothbrushes have bases for charging them, while others are simply battery-operated. Some brushes can even be charged while their stored in their case. This is more ideal than having to carry yet another charging cord in your luggage.
Keep in mind that smaller brushes can affect the amount of brush strokes, so make sure you aren't sacrificing the quality of your cleaning just so it can fit in your carry-on.
Not sure which brush is right for you? Get a second opinion from your dentist at you next appointment today!
About the Author
Dr. Robert Long earned his undergrad degree at Baylor University and graduated cum laude from the University of Health Science Center at San Antonio where he earned his Doctor of Dental Surgery degree. He's currently a member of the American Dental Association, the Academy of General Dentistry, and the Fort Worth District Dental Society. To learn more about his practice, contact him at (817) 645-2437 or visit his website.