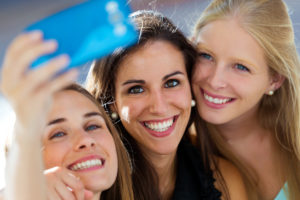 New year, new you, right? If you want a better smile in 2018, you're probably considering getting some cosmetic dental work done. If you haven't been, you should be—especially when it comes to porcelain veneers.
Believe it or not, this cosmetic treatment may be more interesting than you think! Learn all about porcelain veneers from your cosmetic dentist in Cleburne.
Understanding Porcelain Veneers
Veneers are the best way to improve multiple things about your smile in one simple procedure. Porcelain veneers are fingernail-thin shells of ceramic that cover the fronts of your teeth. They mask your dental flaws to create a new smile. Each set of veneers is custom created to mask your personal flaws and fit your mouth's structure. After taking a few impressions, your dentist will send your information to a lab to have them created for you.
Things You Need to Know About Veneers
Veneers Can Help with Tooth Sensitivity 
In addition to making teeth look brighter and more beautiful, porcelain veneers can also make teeth less sensitive to stimuli. According to research, porcelain veneers can significantly reduce tooth sensitivity by covering the front of teeth to provide a barrier against stimuli like hot or cold beverages and food.
Veneers Don't Require Too Much Preparation Anymore
Thanks to modern advances in dentistry, porcelain veneers don't always require extensive enamel removal to have them placed. They will be permanent and provide a long-lasting perfect smile you can be proud of!
Porcelain Veneers Can Change the Shape of Your Face—For the Better
One of the greatest advantages of cosmetic dentistry veneers is how they can change the entire shape of your face by lifting it. Porcelain veneers can be crafted to widen your smile, accentuate your cheekbones, or make your face more symmetrical and perfect to achieve your ideal look.
Veneers are Made to Last 
While veneers may cost more than other cosmetic treatments, they also last much longer. When you take exceptional care of your veneers by cleaning them and visiting your dentist, they can last even longer than 20 years! And unlike cosmetic dental bonding, which can stain over time, veneers are stain-resistant to allow you to benefit from a whiter, brighter smile!
All in All, This Is Why Patients Love Porcelain Veneers
Porcelain veneers are most definitely interesting, and they help many patients feel better about themselves! Here are some of the other benefits that patients love:
Dental porcelain is durable and long-lasting.
They look very natural and blend with the rest of your teeth.
Less tooth enamel must be removed with the advancements made in dentistry.
Porcelain veneers are stain-resistant for a lasting white smile.
The procedure is non-invasive and convenient.
If you want nicer teeth in the new year, it's time to discuss veneers with your dentist. Schedule a consultation soon!
---
About Our Office
Here at Long Family Dental, we want you to feel relaxed and ready for your treatment. That's why we invite new and loyal patients to schedule their next appointment. We can discuss their goals and develop their personalized dental plan to create their dream smile. Learn more by scheduling your appointment today!