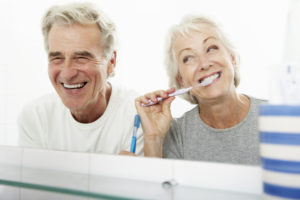 Have you lost several teeth—or even a whole arch? You may need dentures.  They're not just for older patients like some patients may expect. They're for anyone suffering from tooth loss. Getting them and maintaining your new teeth is easy when you decide to visit your dentist in Cleburne at Long Family Dental. After a quick consultation, fitting, and short amount of time to create your custom dentures, you'll be well on your way to maintaining your versatile dental prosthetic. Let's take a look at how easy it is to take care of your new teeth.
1.         Clean your dentures thoroughly.
Dentures can still build up stains, tartar, and dangerous bacteria just as your normal teeth. To avoid putting yourself at risk for further dental problems, remove and brush your dentures with a soft tooth brush or a special denture cleaning brush. You can use regular hand soap, mild dishwashing detergent, or a mild toothpaste. Also, soak them at night in warm water to loosen debris. Remember, DO NOT boil your dentures!
2.         It's okay to give your dentures a break.
It is important to take your dentures out before you go to bed. Dentures are known for causing wear and tear on the mouth because they rub against your gums and jawbone. Give your gums time to recover. We recommend you remove your dentures for at least six to eight hours a day.
3.         Be gentle with your dentures.
Since dentures are made with delicate, high-quality dental materials, you'll want to be careful with them. When you're cleaning your prosthetics, be sure to do so over a bowl of water or folded towel just in case they drop. Avoid using toothpicks or foreign objects when wearing them to avoid scratching the surfaces of your dentures.
4.         Feed your body nutritious foods.
Sometimes, dentures make it difficult to enjoy the foods you want and need if they aren't implanted. Make sure you're not missing out on essential nutrients. Practice indulging in a well-balanced diet. Vital vitamins and nutrients keep your gums and jaw bone health, helping to support your dentures and keep them functional.
5.         Visit your dentist in Redmond.
Following the tips on this list is important, but we still want to see you in our office for professional cleanings and checkups. Either Dr. Long or Dr. Chris Long will be able to complete a thorough check of your mouth to see if your dentures are operating properly. Your dentist along with our dental hygienist can make your dentures sparkle like new in one appointment!
To learn more information to improve your oral health while wearing dentures, feel free to contact our office. One of our friendly team members will be happy to set up an appointment for you to have all your questions or concerns answered. It is our goal for each patient to leave our office equipped to make their dental restorations last a lifetime!