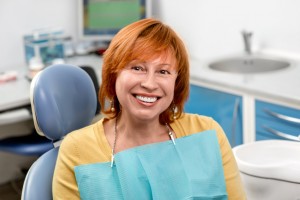 If you're missing one or more teeth, you don't have to tell us that you're suffering from their effects. Feelings of stress and anxiety are common with tooth loss — the stress that you won't be able to eat your favorite foods, and anxiety regarding your appearance or ability to speak. The good news is this: a gapped smile can be made whole again, and dental implants in Midlothian are an excellent option in tooth replacement. Learn more from the team at Long Family Dental today.
Dental Implants 101: The What, How and Who
Just twenty years ago, dental implants were a much different tooth replacement option. Forget what think you may know about them — today's dental implants are an accessible, affordable and highly successful way to replace one or more missing teeth.
What Dental Implants Are
Picture a golf tee — now imagine a much smaller one, made of titanium. That's what a dental implant is. It's surgically implanted directly into the bone of the jaw to act as a prosthetic root, and its top (like the top of a golf tee) connects the tooth replacement to the dental implant.
How Dental Implants Differ from Other Options
If you've done any research in regards to replacing your missing teeth, you already know you have options, like fixed bridges and non-implant supported dentures. But nothing does the job quite as well as dental implants, which replace the visible portion of the tooth and its root. This is a vital step, because your tooth's root keeps the jaw healthy — and that prevents bone deterioration and further tooth loss in later years.
Who Makes a Good Candidate for Dental Implants
Many adults who have lost one or more teeth are ideal candidates for dental implants. To know for sure whether they're a good solution for your unique smile, you should schedule an initial consultation with the team at Long Family Dental. In this first appointment, we'll check for two things.
Adequate existing jaw bone. First and foremost, your mouth must have enough structure to support your dental implants. Sometimes too much bone has been lost as a result of the missing teeth, and other options like bone grafting must be explored.
Good oral and overall health. You'll also need have good oral and general health for dental implants to be successful. Some diseases and conditions can inhibit the necessary recovery period.
If your Long Family Dental implant dentist verifies that dental implants are a good option for you, we'll begin developing your treatment plan in the very same visit.
Schedule Your Appointment for Dental Implants, Cleburne Residents
If you're interested in finding out if dental implants can make your incomplete smile whole again, please don't hesitate to contact the office of Long Family Dental. We've been helping our neighbors achieve their smile dreams with dental implants in Midlothian, Cleburne, Burleson and surrounding communities for years — now let us do the same for you. Call us today!