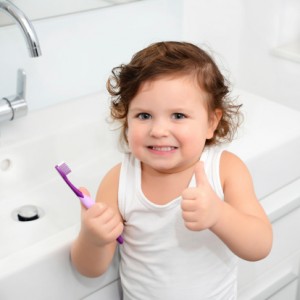 Mother's Day is in May, Father's Day is in June. So when is Children's Day? Some would answer, "Everyday!" But in fact, children do have a day and it just happens to be every single one in the month of February. The American Dental Association has designated February as National Children's Dental Health Month. What better time to make sure your children's oral health is optimal? Children's dentistry at Long Family Dental in Midlothian, TX, and Cleburne, TX, is practiced emphasizing professional care, preventive care and gentle care.
Dr. Robert Long, Dr. Chris Long and their team of dental hygienists and dental assistants are committed to helping you take care of your kids' teeth and gums. With this in mind, we recommend that children's dentistry begin at home. Have your kids watch you brush your teeth. Then, as their smiles develop, make brushing and flossing a regular family activity. There is truth in jest, so remember—monkey see, monkey do!
Children's Dentistry at Long Family Dental
When your children are around three years old, that's when we need to start seeing them regularly in the office. As with our adult patients, we'd like to see them every six months for dental checkups. At their first checkup, we'll count their teeth, check on their oral development including the placement of their baby teeth, possible signs of decay—yes, baby teeth can have cavities—and if they seem ready then we'll also clean their teeth.
For an ounce of prevention, Drs. Long may recommend a fluoride treatment or dental sealants. Fluoride is a mineral that has been proven to strengthen teeth's enamel, the first line of defense against the bacteria that cause tooth decay. Dental sealants are an added layer of protection for your children's permanent molars. Applied as a liquid, dental sealants harden to a solid, filling the nooks and crannies of deeply grooved back teeth.
Schedule an Appointment Today
If you'd like to make an appointment for your kids to see the children's dentist Midlothian, TX, and Cleburne, TX, trust, then call Long Family Dental today. We also conveniently serve patients from Waxahachie, Red Oak, Mansfield and Cedar Hill and beyond.